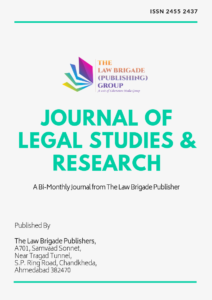 About the Journal of Legal Studies & Research
Journal of Legal Studies & Research is a Bi-Monthly e-Journal based on Law. The Journal covers contemporary issues of Law and is not limited to any specific Legal Topic or Subject. Interested Authors are always welcome to submit their research work on any legal topic, be it National or International. The Journal started its publication in the Year 2015 as a Bi-Monthly publication and since then the Journal Management team has been working tirelessly to bring out each and every Issue of each and every Volume on time. We are proud to share that we have not missed a single publication since our inception back in 2015.
Editing Standards
Journal of Legal Studies and Research follows the model of Double-Blind Peer Review which is conducted by Ph.D Students, Professors and External Guest Editors of The Law Brigade Group. More information about editing can be access from the Peer Review Policy Page, Editing Guidelines Page and Quality Control Systems Page.
Full Editorial Board can be accessed from the Editorial Team Page.
ISSN
Journal of Legal Studies And Research bears an ISSN Number 2455-2437 granted by ISSN National Centre, National Science Library, Delhi. The said ISSN Number is for Digital Publication only.
Frequency & Access Information
Journal of Legal Studies & Research (JLSR) is published Bi-Monthly which means we publish 6 Issues of JLSR in 1 year. The Journal Issues are published in the month of February, April, June, August, October & December of every year.
The Journal is an Open Access Journal and we do not restrict the use of any of our content by any means. All the contents and research published in this journal is completely free to access.
Journal Published Volumes
Volume 6 (2020) [blink] Currently Accepting Submissions [/blink]
Journal Indexed By

Licensed Under